Many American households display a similar iconic photo in a widely visible spot in their home: a framed picture of their high school graduate walking across the stage in cap and gown, accepting their diploma. But for graduates of Brookfield Central and Brookfield East Public High Schools in southern Wisconsin, this proudly displayed memory contains another focal point: a 20-foot tall cross above the stage.
Brook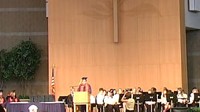 field's graduation had traditionally been held in the school's gymnasium, which was much too small and too hot for the graduating class, their families, and their guests to sit comfortably during the ceremony. In 2000, the students requested to hold the ceremony in a nearby nondenominational evangelical Christian church because the venue was much larger and more comfortable than any space the school could provide. The senior class approved the venue change by a majority vote, and the superintendant, who happened to be a member of this church, agreed to hold the graduation in the church's huge theater, on the grounds that the church provided more space, amenities, and convenience than the school's gym, and allowed students to invite more guests than they would have if the ceremony was held at other local, secular venues.
Students and families from the school and Americans for Separation of Church and State filed a lawsuit arguing that holding graduation ceremonies in a place of worship violates the Constitution and makes some attendees feel uncomfortable, and requested a court order to force the schools to find an alternate, secular venue. This week, a three-judge panel of the 7th Circuit Court of Appeals upheld that as long as the graduation ceremony didn't hold religious elements, there was no government endorsement of religion, and therefore no violation of the Religion Clause.
Walking across the stage at high school graduation to accept a diploma is considered a rite of passage in American schools, and forcing public school students in a multi-cultural and multi-religious town to choose between asking their families to sit in a mega-church to watch them accept their diploma under a giant cross or skip this momentous occasion all together is not Constitutional. The 7th Circuit Court found that as long as the ceremony did not contain religious messages or religious pressures, no endorsement of religion was taking place. Essentially, they found that as long as religious paraphernalia was only visible and present but not explicitly mentioned, there was no problem.
But, with this ruling, there is a huge problem. This church, although large, air-conditioned, and "convenient", is a widely accepted and extremely visibly a place of worship. Pews contained Bibles, prayers, and hymnals, and a giant cross above the stage. One student claimed that the ceremony, which did not mention any denomination or the church itself, was completely secular, and therefore an appropriate venue. But since when are courts okay with the presence of religious paraphernalia or venues for supposedly secular settings as long as they aren't "explicitly mentioned"? Would it be okay for a schoolteacher to hold class in a room of a nearby church simply because the church's multipurpose room, while decorated with Bible verses, was larger than the school's? What if a Judge held Court in the Synagogue down the street because the Court was overscheduled and overcrowded? According to this Court's reasoning all of these situations could be acceptable because no religious messages are explicitly stated or endorsed—the groups are simply using the venue out of "convenience", with no religious intent. The consequences of allowing a public high school to hold a secular graduation in a church for convenience reasons are somewhat limited in scope, but the consequences of allowing this "convenience" excuse for violating the Religion Clause to become precedent has dangerous implications because oftentimes, secularity does require extra effort, and these standards should be upheld for future cases where a lot more is sacrificed in the name of convenience.
Verbal messages and readings, while important, are not everything—no one can claim that simply omitting religious speech makes holding a ceremony in a church non-religious. Sitting in an empty church in silence, even while no one else is present, is still a religious activity because churches are still an obvious place of worship, regardless of what the venue is being used for. What if you were planning your Muslim wedding and the Imam tried to convince you that it would make more sense to hold your ceremony at the Catholic Church down the street because it's bigger, and air-conditioned? True, it's not a Mosque, but don't worry—they wouldn't say or read anything Catholic, so no one will notice the venue at all…right?