"Do you solemnly swear that you will tell the truth, the whole truth, and nothing but the truth, so help you G-d?"
Anyone testifying in a court of law in the United States hears this phrase, or a very similar variation, and agrees to the statement. This is customary in many judiciary systems, as it is important to affirm the validity of the statements which one makes in a court of law. The controversy comes, however, when attempting to define the proper oath, and what to swear on. Britain is currently debating the oath on the Bible before testifying in court. This could set an important precedent for many other countries in the global system, including the United States where such an issue is already extremely controversial.
Recently
, a Bristol Magistrate, Ian Abrahams, proposed the radical notion of doing away with all religiously affiliated oaths in court. Instead of swearing on any religious book, witnesses and defendants would take a secular pledge that would allow them to better understand the consequences of their testimony. It would also apply to everyone more equitably. The
new oath
would read something to this effect: "I promise very sincerely to tell the truth, the whole truth, and nothing but the truth, and I understand that if I fail to do so I will be committing an offense for which I will be punished and may be sent to prison". Groups such as the National Secular Society embrace the change, but others such as the Revd. Arun Arora of the Church of England disagree, believing the change to be political correctness taken too far. While the Ministry of Justice declares that it is not planning on changing the oath anytime soon, the matter is still a contentious issue within current society.
Many previous posts have discussed such intertwining of state and religion, with issues like "in G-d we Trust" on our money, in our Pledge of Allegiance, and as our national motto. This time, the focus is on the Bible being used for oaths such as before testimony in court and even being sworn into the Presidency. Should we be using religious texts for these events when we've been told our Constitution intends for a wall of separation between the church and the state? To be clear, in US courts you have not had to swear on the Bible since the 60s - the issue is whether to ban taking oaths on any religious books whatsoever.
As we grow ever more concerned about religious diversity we begin to see common practices that may have been rooted in religious traditions as establishment of that original religion - the historical/traditional argument. Yes, the United States is overwhelmingly a Christian nation and Presidents have been swearing on the Bible since George Washington himself, but as a modern country we recognize that there are many people of very differing religious faiths as well as those who choose not to worship at all. Not only was the Constitution written to protect minorities, it explicitly prevents an establishment of religion by the state. In the world we live in, we can no longer excuse the practices we engage in to religious tradition or majority.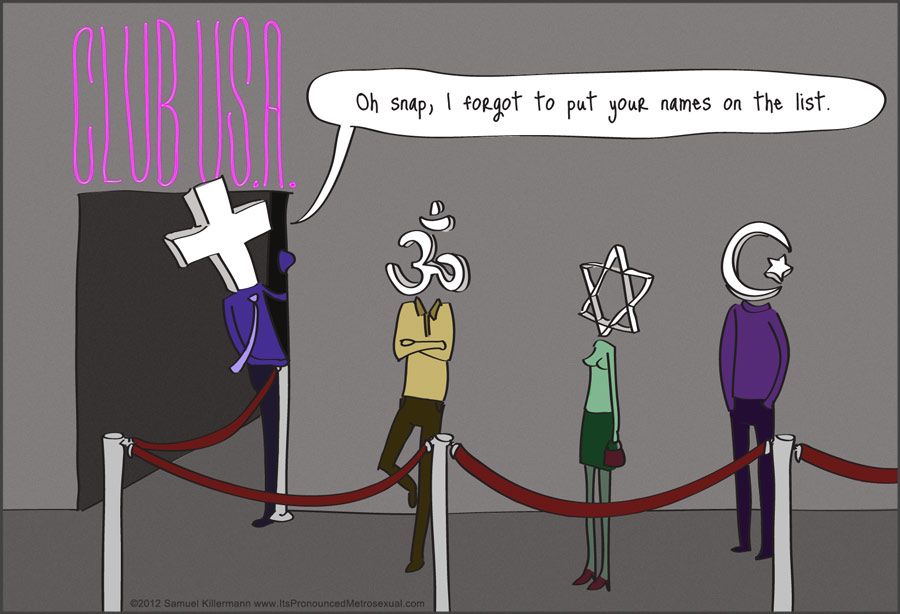 Some would even argue that people swearing on the Bible could be degrading to Christianity. The practice of taking an oath with the Bible was instituted when most, if not all people, were G-d fearing. This meant that they understood the consequences of the oath they were taking, and knew that if they lied, they were to be judged by their G-d. Today, however, many people do not think twice about the oath they're taking and its relation to G-d's judgement. Because of this, the new proposed oath suggests mentioning that the swearer will be punished with prison for lying to the court. This change would make the oath more realistic, and might convince people to think twice before committing perjury.
And this applies to other religious texts as well. Let's discuss the prospect of swearing on any holy book. Today, people are allowed to take an oath on their preferred religious scripture, but where do we draw the line? As with all church/state discussions, we come to the dreaded 'slippery slope'. Many people argue that the courts cannot judge the sincerity of a religion, so how does the court decide which books are acceptable to swear upon. What if you belong to the Church of Deathly Hallows? Besides, allowing everyone to use their own religious text is great, until it leads to prejudice and discrimination. There is no way to dissuade someone's biases, and if that juror sees the defendant taking an oath on the Qur'an he may be immediately prejudiced.
Additionally, it may be argued that getting rid of religious texts in oath taking situations would be considered favoring atheism, but preferenciating non-religion over religion might not be such a bad idea in this case.
Overall, I believe that we should change the oath, as well as remove religious texts from our courts.
How do you feel? Are you worried about people not truly understanding the consequences of lying in court? Should there be a high and impenetrable wall of separation here, or is banning religious books taking it too far? If so, what regulations would be made to decide which books are acceptable?