Note: read the article about this topic
here
.]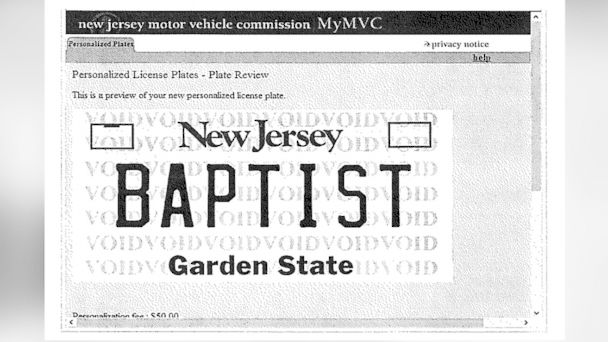 Shannon Morgan in Leesberg, NJ is suing the state for violating her First Amendment rights. She attempted to register a license plate with the word "8THIEST" and was denied on the basis that the "requested plate text is considered objectionable. She then typed "BAPTIST" into the prompt on the New Jersey Motor Vehicle Commission's website to test the system, and the word was approved.
Morgan requested the reasoning of the Motor Vehicle Commission's denial of the word and was never given a clear answer. In addition, since the beginning of the lawsuit, the commission has apparently "stonewalled" Morgan. The lawsuit states that the Vehicle Commission also denied president of American Atheists, David Silverman, after requesting the word "ATH1EST." The word was eventually approved, but only after having received attention and support by local news and media outlets. Americans United for Separation of Church and State, a Washington, D.C. based religious liberty watchdog group, is supporting Morgan. The group's legal director called the Motor Vehicle Commission's denial mean-spirited, derogatory, and unconstitutional. They claim that the Commission should not have the power to approve or deny license plates on the grounds of religion and non-religion because that is "a classic speech violation." A spokesperson for the Commission stated, "We review every request personally…and we review them for anything that's offensive or objectionable." Apparently the Commission has approved atheist-themed license plates before, and stated, "We have no objection and continue to issue license plates with these types of configurations."
This is an important case because it entails the element of neutrality and sheds light on the necessity of fair and equal judgment when it comes to religious and non-religious matters. The salient issue in this case is whether or not Morgan's right to free speech is being violated by rejecting a word of her choice from being stamped onto a license plate that would be put onto a vehicle in her possession. The word "atheist" should not be considered "objectionable" because it is not obscene or offensive, but a name of a population, one that a large amount of people in this country together make up. By denying this word to be made into a license plate creates the possibility of being directly offensive to a large number of people as well as overtly inhibiting and individual from expressing her views and opinions.
The other issue of consistency is unveiled in this case. The Commission clearly has not treated all license plate word acceptances and denials the same way. We can see this most obviously with David Silverman's case, first being denied and then approved only because it received attention. The Commission has to show a more significant amount of consistency with approval and denials. In these religious cases, however, consistency comes second to justice, as a word referring to religious (or non-, in this case) beliefs should not be denied on the grounds that it is objectionable. This is a direct violation of the free speech clause of the first amendment. It is important here to also address the additional issue of whether or not it is unconstitutional to consider the word "atheist" offensive. In a way, this classification of "atheist" is a form of hate speech and unacceptance toward an entire population with a particular belief. The allowance of the word "Baptist" also begs the question of whether or not words descriptive of other religions, like "Islam" or "Hindu" would be approved to be on license plates. The consistency issue is applicable here as well, as free speech is violated in that circumstance by allowing one religion but not all to be deemed acceptable to be put onto a license plate.
There is absolutely no compelling state interest in New Jersey denying the word "atheist." The entirety of the comments on ABC News' article discussed how New Jersey will not and should not win this lawsuit. Even people identifying as Christian agree that this is an obvious form of inhibiting free speech.
Why do you think this issue is important? What is there to say about personal property and the freedom of personal expression? What do you think about the way the Commission has dealt with this issue thus far?